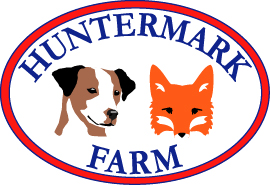 USHJA Certified Trainers:
Rachel Rock Robinson
Janet Rock
Welcome to the Huntermark Farm web site! If you like to show on the A circuit, and/or locally recognized shows, and/or if you just like to ride to improve and have fun, Huntermark Farm is the place for you. We primarily train Thoroughbreds, warmbloods, Quarter Horses, and ponies, but we can work with almost any breed. To learn more about us and what we do, please explore the following ...
Jan Rock on Rock Star ~1983
HUNTERMARK FARM
Quality Hunters and Jumpers
TRAINING * SALES * LESSONS * HORSE SHOWS * SUMMER CAMP * TACK SALES
OFFICE ADDRESS: 15602 13th Street, Milan, IL 61264
Tel: (309) 738-7767
shows@HuntermarkFarm.com, Rachel@HuntermarkFarm.com, tackshop@HuntermarkFarm.com, camp@HuntermarkFarm.com